Follow us online!
Register
Register online with us
and authenticate your pharmacy refill account. register now »
Review
Review your prescriptions,
research drug information and see details on your current prescriptions.
Refill
Send in the request.
Save time and have your prescriptions ready when you arrive.
Welcome to Moore's Pharmacy

We're glad you're here! If you have any questions, please let us know!
Moores Pharmacy of Kingsport, TN
You rely on your Pharmacist the same as you do your doctor. We invite you to get to know us because we're just as committed to your health as the doctor who prescribes the drug therapy we fulfill.
Why Moore's Pharmacy?
We Accept Tenncare
Most Insurance Plans
Medicare Assignments and File your Forms.
Expert and Confidential Consultation on your Medication Regimen.
Free Blood Pressure Check
Delivery
Pick-up Window
Meet the dedicated professionals who along with physicians and nurses are part of the continum of care that promotes your good health and well-being.
Please visit us on Facebook!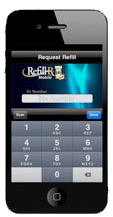 Refill your prescriptions on the go.
We also support RefillRx Mobile to provide you with a one tap solution for refilling your prescriptions. Simply scan the barcode on your bottle and watch as RefillRx Mobile sends your request to our pharmacy.
If a barcode is not available you can also simply enter the Rx number for your prescription and search for our pharmacy by entering (423)247-8188.
Download RefillRx Mobile Today!
iPhone Link
Android Link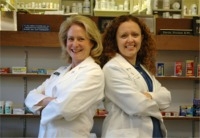 Get in touch!

We love to hear from you!
Address: 1201 N. Wilcox Drive

Kingsport, TN 37660
Phone Number: (423) 247-8188
Fax Number: (423) 230-0264
Hours of Operation

Please come in and see us during the following hours:
Open Monday through Friday

8:30 a.m. - 6:00 p.m.
Saturday

9:00 a.m. - 2:00 p.m.
Sunday - Closed